So tired *stop* Hate new job I won't be paid for *stop* Nobody told me I'd be handling cash and loans out right, what is maths? *stop* HATETIREDGRUMPY *stop* I don't want to do this for another 4 weeks, i'm too shy to serve people who are cranky and want their money NOW, but I can't get out of it D:
And regarding
Being Human
aka best Brit series on the telly since Life on Mars.
*erm spoilers for anyone who watches it*
MITCHELL!!!!OMG
;___________; *sobs* It's because he'll be in the Hobbit isn't it? The scene between George and Mitchell was so powerful and emotional, they broke my heart, the bastards ;_;
To cheer myself up before I have to go to bed, have some art.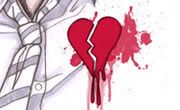 I drew this for

knowmydark
's fic
Moment of Inertia
. Decided such a serious fic would get a serious more realistic style. This is influenced by David Mack's art as I've been reading Kabuki: Metamorphosis again ♥
( A moment of despair )