loobee
X-men thoughts coming soon *geek (cough) geek* But, I thought it may make up for choosing Team Angst if I post some art *runs to hide from some of her friends on the 'other side' *laughs** Honestly though, I went for angst as I'm completely stuck on ideas for the fest, I know I do angst better than romance when blocked.
I embrace pain, suffering and sacrifice, and gain strength from obsession. It is true that they have given me scars that will never fade, but for that, I am grateful, because they show me what is within me, and what is within reach of me.

TEAM ANGST POWERS ARE A GO!

Preview: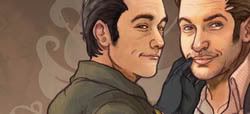 I drew this well over a month ago, but only managed to colour it recently. It was meant to be Bond Eames (Arthur was so Pussy Galore *sniggers*) but it changed so much, into more of a cop show vibe. How many of my kinks did I put in it? WOW! Tried to colour it a bit more realistically in the faces than I normally do (despite the lines). THAT WAS A PAIN IN THE ARSE I CAN TELL YOU. I have such respect for people who paint so well in PS, because it's harder than it looks.