loobee
This is for the lovely

delires
is a absolute darling, and wrote a fic to go with this piece,
Burning Bright
. Absoloutely 100% tiger themed, and with drunk Arthur for good meassure ♥
Preview bruv: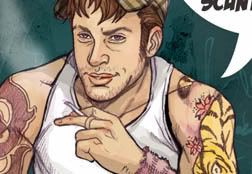 I'm sorry it's sort of rushed hun. And, who the hell convinced me I could draw muscles, oh man so hard to draw >_> The thing he's saying is a lyric from the song the fic is based on by
Tinie Tempah
I added it because Scunthorpe is my home town, it doesn't hurt that it's all so Chav central of the North. I kid ye not.
ONE ART BLOCK SUGGESTION DOWN, SO MANY MORE TO GO! OH GOD 6 DAYS TILL R!BB POSTING *colours like a banshee and panics*
I must vanish now to get ready for my 'I don't get paid, man this blows' work tomorrow. I don't want to go as it means my net time is so cut down, i'll miss you all though *sobs*